Famous people #31: There's finally a dog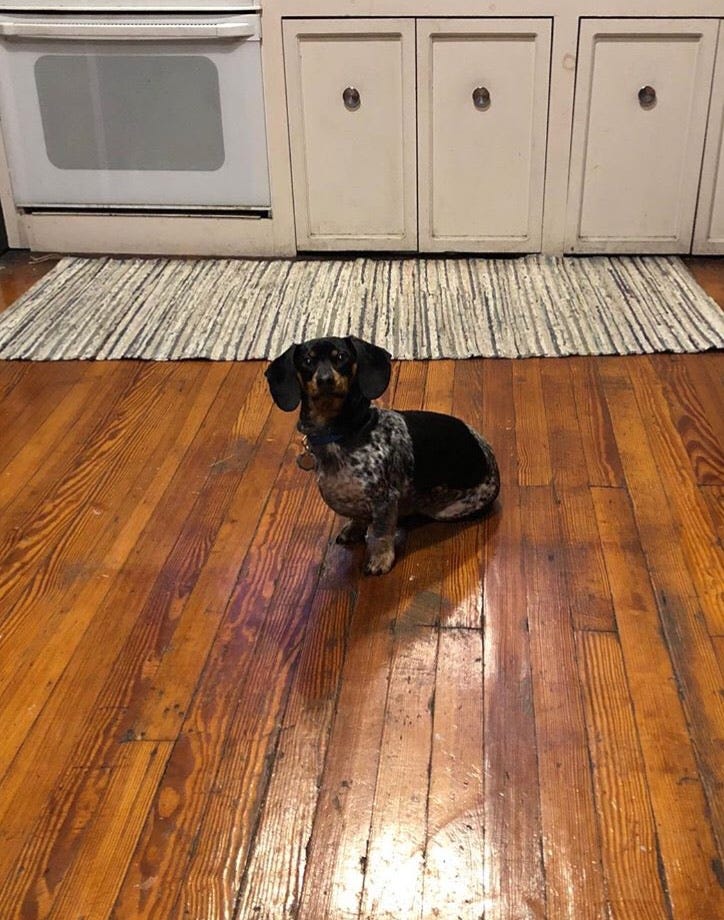 Lizzie: Jon is moving to Berlin and there's not much I can say about that except we knew it was coming. I mean, he was planning on moving whether he got the job or not. But he did get the job. So on Saturday he threw a going away party at the apartment that Matt used to live at and that he still lives at for like, two more days.
I'm trying to not spend all my money on cars going to and from Bushwick anymore, so Matt and I took two buses to get to the party. It took 7 hours. By the time we got there, most of the hot dogs were already eaten, but there were three different kinds of salsa.
Everyone was trying to gently roast Jon and I pointed out the true fact that he's never played a drinking game in his entire life (I don't know what a roast is). Obviously the reaction to this, as I had anticipated, was that we needed to immediately play a drinking game so as to send Jon off in true American fashion: by drinking beer and performing feats of feigned athleticism in a backyard. I don't mean to give myself too much credit, but I think this saved the party. We played flip cup and beer pong and there was a lot of shit-talking.
Afterwards we all moved into the house to cool off and two more people showed up. I think I had met this couple before at a barbecue, and all I remember is that the man-half of the couple kept referring to Rick Owens as "Rick." This time around, the man-half of the couple was wearing a vest covered in piano keys and joggers.
At some point this couple announced that they would be traveling to Paris soon, even though this going away party wasn't for them. They were upset they had to fly Norwegian Air or something. When people asked them "Why Paris?" they kept responding "Because we've been everywhere else." They said it at least three times. "Because we've been everywhere else."
I can barely get to Bushwick these days!
Party Review Metrics:
Did anyone bring a dog?
I feel like maybe this is the first time I've been able to say yes to this question in 30 newsletters. Jon and Sasha's stunning and loud dachshund Larry showed up (uninvited — haha!).
Did we hear any good secrets?
 I forgot to ask who's taking Jon's old room. We need a fresh face in our cast of characters!
Did anyone get famous?
I hear it's easier to make it in Berlin.

Party score: As many dachshunds as you can fit on a Norwegian Air plane.