Famous People #59: Today is Ashley's birthday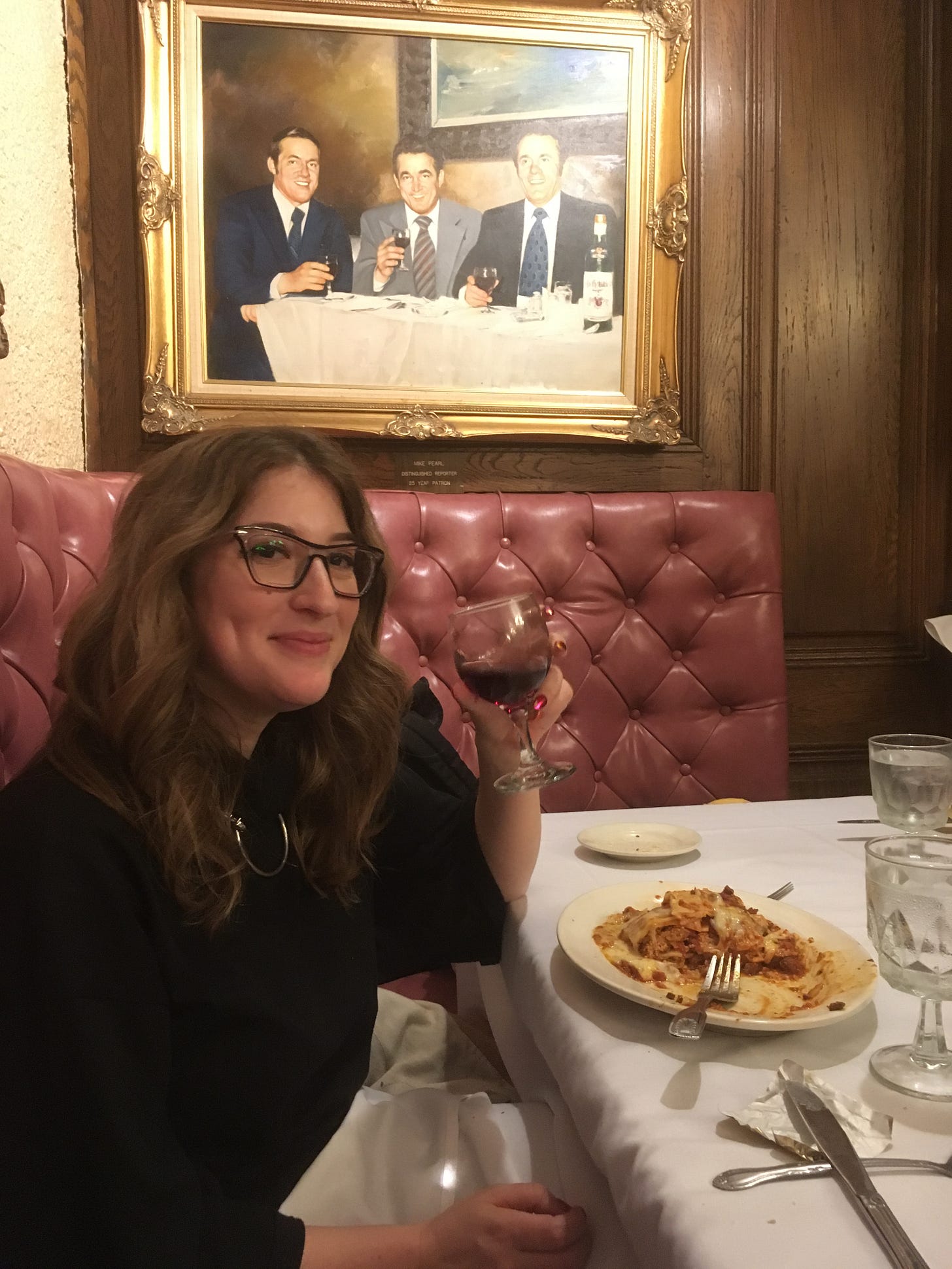 Kaitlyn: Ashley Carman was born 29 years ago today in, we think, Chicago. Because of the horrible hand the universe has dealt us, we have only been witness to five of those years—but haven't they been the best of our lives? 
Lizzie: Yes! Well, pretty good. Definitely better than they would have been without Ashley.
Kaitlyn: This special edition Ashley's birthday newsletter is supposed to be about Ashley's greatest hits—the best things we remember Ashley doing or saying or wearing. I don't need to tell you that this is an enormous curatorial task, and the kind of thing you typically have to go to college for. We'll try. My earliest memory of Ashley is the day that someone told us to write about the girl on Instagram who had smashed her face into hundreds of different breads. We did so sitting on opposite ends of an infamous and incredibly disgusting orange sofa in Vox Media's now-defunct Bryant Park offices, and I don't think we said a word aloud. Months later, she accompanied Lizzie and me on a baffling reporting trip to a Beetlejuice-themed bar that is somehow still open. (Or was, shortly before the pandemic.) By that point, we were speaking. We were terrified of Beetlejuice!
Lizzie: If we were the kind of people who got meaningful tattoos, we might get tattoos of that disgusting orange couch, or of Swedish Fish, to commemorate the time we asked a man named Jimmy (dressed like Beetlejuice) if we could have extra Swedish Fish to go with our dessert cocktails.
I vaguely remember Ashley's first day at The Verge, or at least I remember where her desk was. Even though I already had one work friend, things were getting pretty weird there and it was nice to consider the possibility of one day having another friend. Ashley knew about things like "security" and "privacy" and I don't even think my phone was password-protected at the time. She still doesn't have Venmo and she's probably the reason I use a password manager.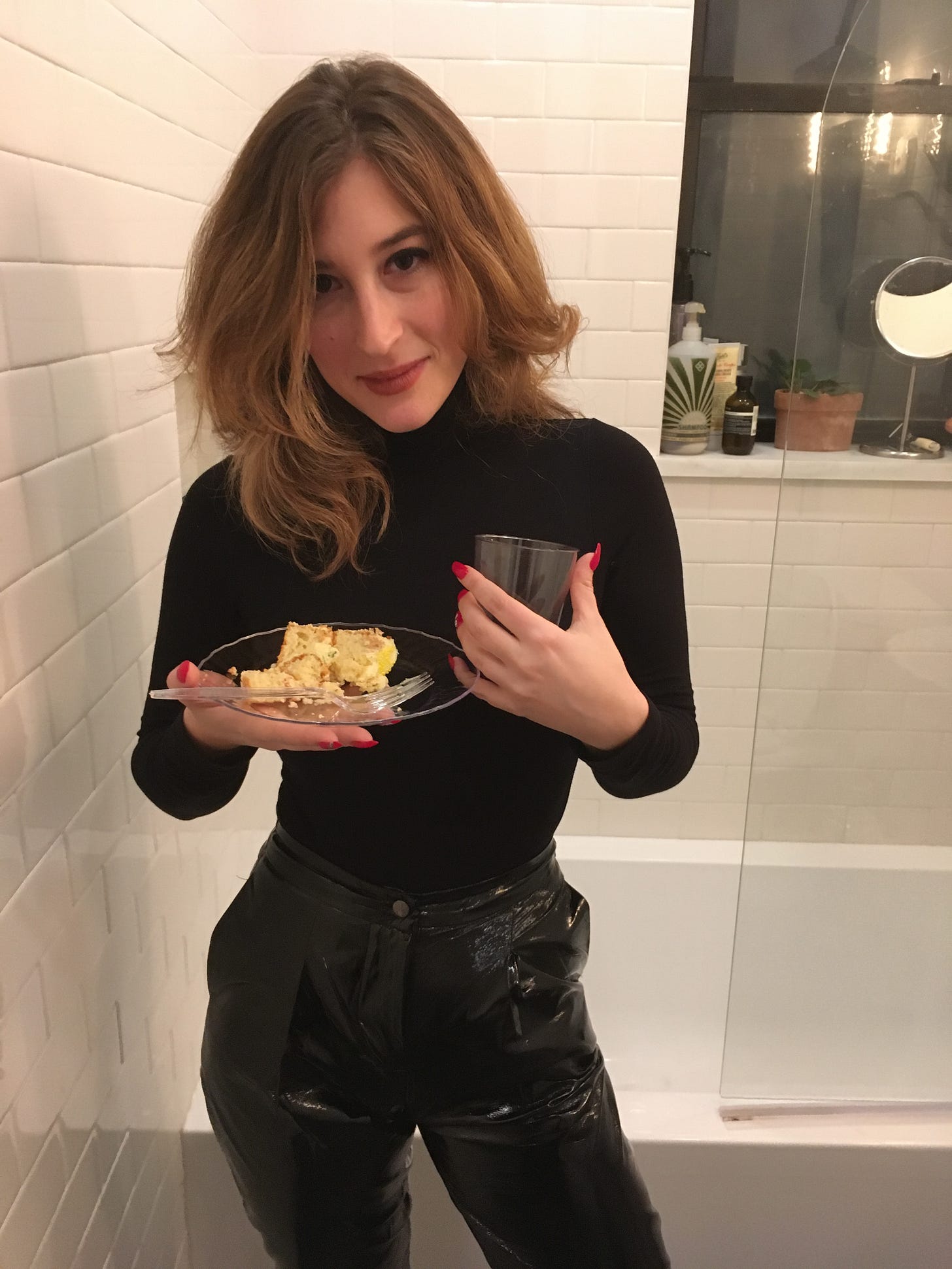 Kaitlyn: Let me say something about Ashley's vinyl pants. She bought them after a break-up and then I took photos of her in a rich girl's bathroom. She was literally posing in front of a toilet and shower with a half-eaten plate of cake in her hand and they were the most beautiful images ever committed to an iCloud account. A year later, when I was going through a break-up, I bought a nearly identical pair of vinyl pants and asked Tamar to film a 90-second video of my butt. I don't know how beautiful this video is, but I know I'll be glad to have it when I'm 45. There is almost nothing that Ashley has done that I wouldn't do too, on a slight delay, with total confidence that it will make my life better.
She orders for us in every restaurant. She's always like, "I'm just going to take you to one of my Greek spots," and then it's the best night of our lives?
Lizzie: Ashley is a genius. She makes her own bagels. She gets massages. She knows a lot about DJs. I bought glitter eyeshadow because Ashley once took a nap in glitter eyeshadow and woke up looking gorgeous. One time she decided she wanted to attach a little charm to the end of her nails and I think she had her cousin do it at home with some kind of drill?, which is even cooler than getting a stick n poke in your kitchen.
Ashley is the one who reins in some of my and Kaitlyn's less thoughtfully considered plans, such as staying in the cheapest Airbnb we can find, with descriptions like "the rats will leave you alone if you don't use the bathroom at night!" She has impeccable taste and won't take a bright green bedroom lying down! Unless we force her to sleep in one for $45/night.
You know how when you watch movies you're like, "C'mon, no one actually looks like that when they first wake up!" Well, Ashley does.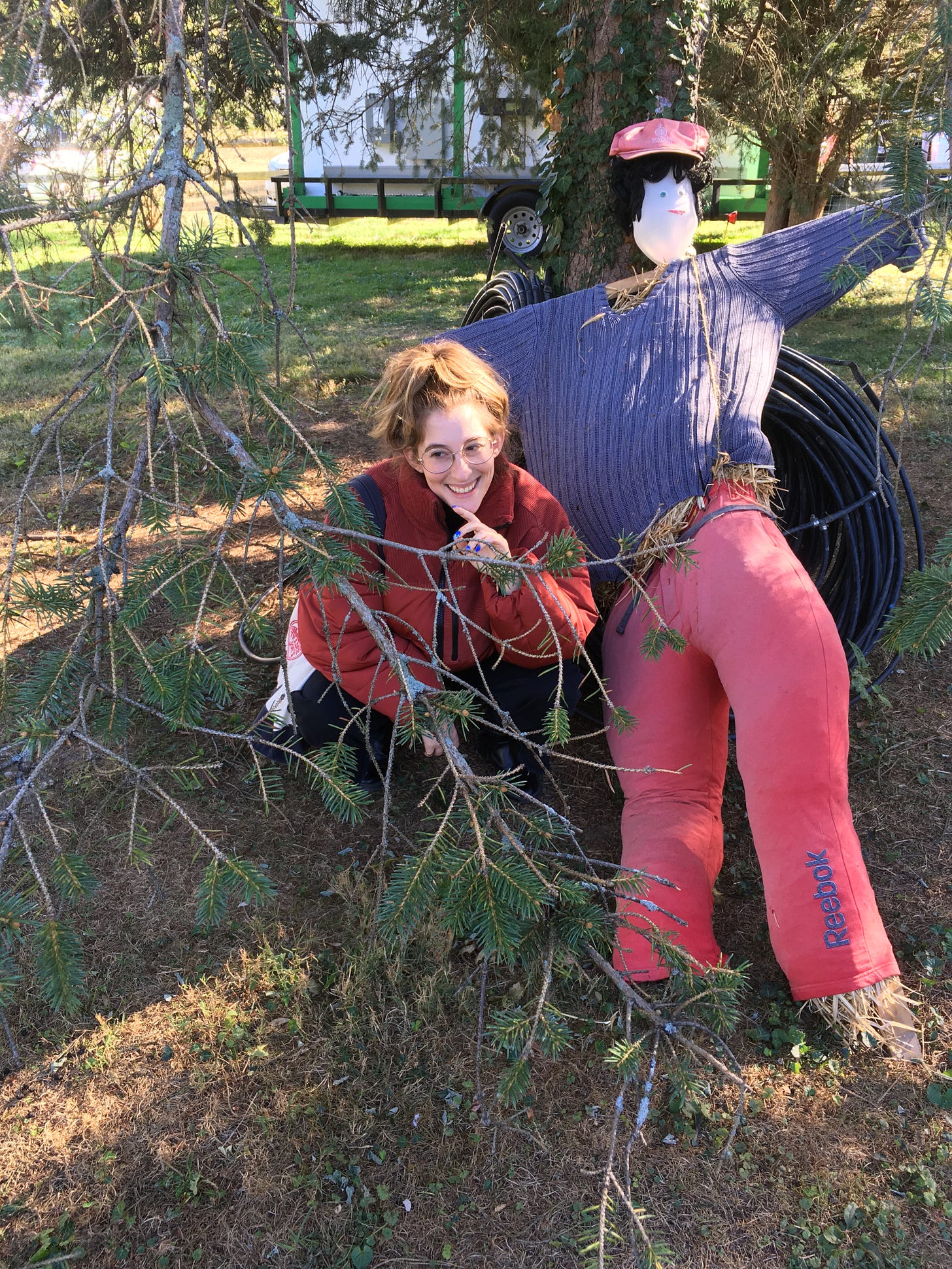 Kaitlyn: I remember so many things about Ashley and one of them is that she once fed me like a full $16 worth of lychees just because I was sad that my tonsils were infected. Another is that she gave me a custom-made candle in the shape of Harry Styles' head for my birthday last year. I know what you're wondering. Have Ashley and Lizzie and I ever been in a huge fight about something and it was so bad? No, never.
Lizzie: I can't imagine ever fighting with Ashley because she's an incredibly calming presence in our lives. I should also mention that Ashley is the reason we all go to Crunch and they should pay her for that, and we should pay her for that. Ashley has a soft spot for the kind of aggressive fitness instructors who yell at you, and I respect that. I still think fondly of going to "BLT" (that's "Butt, Legs, and Thighs") with Ashley on Thursday nights and being amazed at how good she was at everything. Honestly it says a lot about my own deranged self-confidence that I continued going to fitness classes with someone who has consistently perfect form.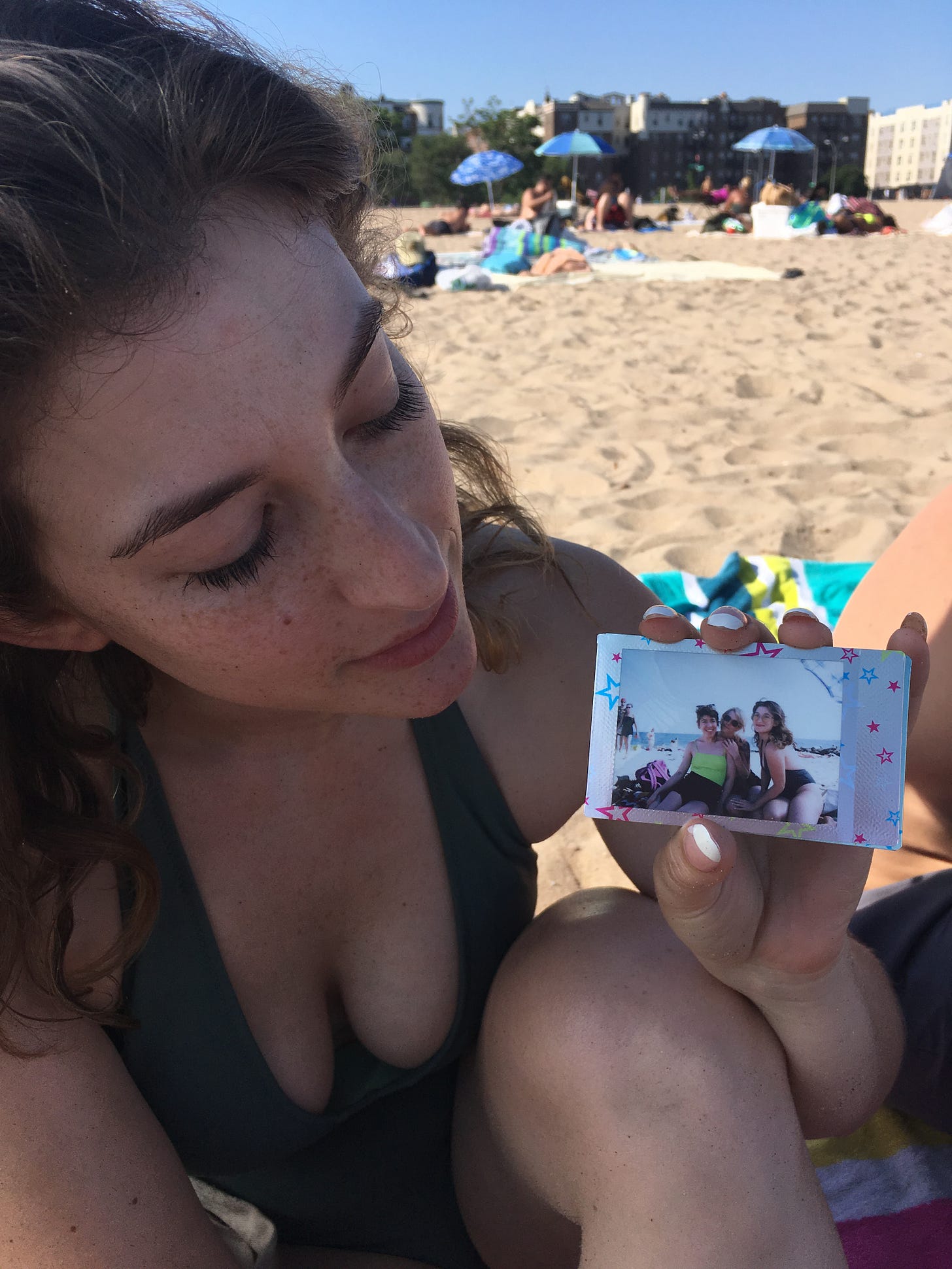 Kaitlyn: If you know anything about Ashley, you know she loves the beach. If William de Blasio tries to keep her off the sand this summer, I'll have no choice but to start praying for his family.
If you don't know anything about Ashley, I'm sorry to say that you just have no idea what life could be like. Lucky for you, many of our favorite memories of Ashley have been documented in former issues of Famous People. Just picture her: Ashley waiting for us at the bar at Baby's All Right; Ashley ordering matzo ball soup in upstate New York; Ashley drinking a Lime-A-Rita on the grass; Ashley showing up two hours late with a new manicure, saying "I just ate a steak;" Ashley wearing Glossier perfume while she explains that someone we know is hosting an illegal poker game; Ashley sipping tequila in a leather choker; Ashley leading me by the arm to Doris, the place we all miss in our bones; Ashley taking Jell-O shots at my dreaded ex-boyfriend's birthday party; Ashley handing us huge plastic bags full of left-over pasta; Ashley learning how to pronounce "rooibos;" Ashley buying ice from a gas station for the first time in her life; Ashley recommending me an ears, nose, and throat specialist; Ashley confiding in us about her deep fear of crickets; Ashley ordering a White Claw in winter. 
Oh, man. I love her as much as I love New York—because to me, that's what she is!
Lizzie: Happy birthday to you, our dearest Ash. See you on Gchat.